Contact Lens Exams
What Happens During A Contact Lens Exam?
A contact lens exam allows you to get a new prescription for your lenses. Whether you have been wearing contact lenses for years or this is your first time getting them, an exam will help you learn more about our healthy contact lens options. Our optometrists at Lake Murray Optometric Center in Lake Murray offer contact lens exams and other eye care services. Let's have a look at what you can expect during your contact lens exam.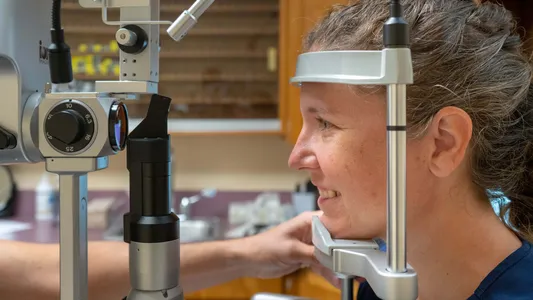 Evaluating Your Eyes
Certain types of eye issues require different types of contact lenses. For example, if you have a refractive error like nearsightedness or farsightedness, the eye doctor will take a look at the strength of your prescription. The shape of your cornea is also assessed to determine if regular contact lenses are a good option for you or if you can benefit from specialty contacts. Precise measurements are made of each eye to determine what method of vision correction works best for you.
Choose a Contact Lens Option
The next step is to determine which type of contacts are right for you. Our eye care professional may recommend specialty contacts if you suffer from certain types of eye health conditions, such as dry eyes or allergies.
You can also discuss options based on how often you would like to change out your lenses. Some lenses can be worn for a month or so, while others must be replaced each day. You may also find that you need bifocal lenses, which can improve your vision significantly at various distances.
Some of our patients consider cosmetic lenses as well. These lenses can change the color of your eyes. We offer a wide array of contact lens options and are happy to answer any questions that you may have about the process of getting and wearing new contact lenses.
Wearing the Contact Lenses for a While
Our eye doctor will ask that you wear your contact lenses for a few days, perhaps even a couple of weeks. You will return to the office wearing the lenses so that we can determine if the lenses are a good fit for you. If you suffer from dry eyes or another condition, our eye doctor can determine how much the contact lenses may impact your condition.
Book Your Appointment with Dr. Robert Gonzalez in Lake Murray, CA
Our optometrists at Lake Murray Optometric Center will help you get the eye care you deserve. Dr. Robert Gonzalez and our team understand the importance of good vision and vision correction. Call our team today at (619) 464-2076 or reach us through our website by using our online contact form.